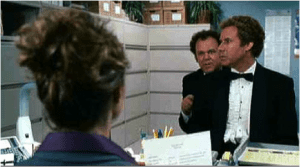 One random topic we discussed today, here at DINC, is 'TUXEDOS' and simply the rationale behind them.  We know, as men, that tuxedos are a necessity in our wardrobes for many important events throughout our lives.  Men, like us, love to sport a nice classy tuxedo, whether it be for weddings, important awards ceremonies (in our honor, of course), or any other major functions or occasions we may partake in.
At DINC we talk a lot, and we rarely come to an agreement, no matter what we're bickering about; but today was one of those few exceptions where we actually agreed upon a topic.  We agreed that tuxedos are just flat out AWESOME (well, obviously) and we all thought that an individual couldn't look any sharper and ready to conquer the night than when they're in their tux. But, on the other hand, we were then puzzled as to why more people don't own their own tux. If you take the time to think about all the ceremonies, weddings, etc. you're going to be apart of throughout your life, then why wouldn't we all just get our own penguin suit?
On average, renting a tux can easily cost us around $250 per night; while, we could buy our own from anywhere between $50-$150 off your local Craigslist or EBAY, as there are thousands of suitable tuxes listed on both domains. Now, just think of all that coin we could all be saving up by not renting tuxes. The average male will attend about three ceremonies/weddings a year starting when their 25 years old; and this trend will last for an average of ten years. That's thirty different occasions where you will need a tux.  So, if we all rented a tux every time we needed one, at $250 a pop, it could cost us around $7,500 in all.
Therefore, we could all save around $7,400 during our lives just on tuxedo rentals!! With that said, we all decided to take our own advice. So, guess what?! Every member of our DINC team now proudly sports their very own tux, and we couldn't be more excited about it! Just think of all the possibilities! Since, we own our tuxes now, we're going to wear them whenever we feel like it; and I mean, obviously we're gonna start to look for side jobs where we will do the job interviews in pairs, and absolutely crush it together in our tuxes!!