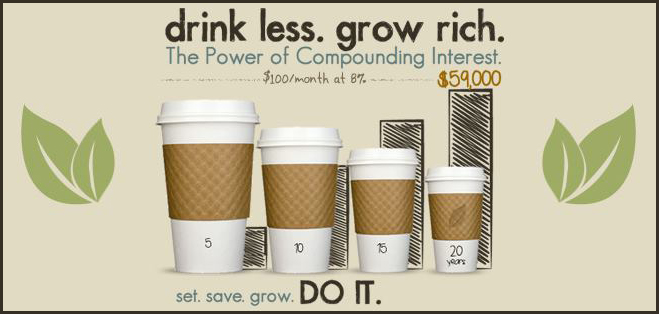 At Dollar Investment Club, we help our investors by offering a simple, yet effective, saving and investment plan. We will show you practical ways to save a little bit of money here and there that can grow to a lot of money over time. By linking your bank account directly to your investment account, on a periodic basis we will invest your money in your chosen systematic way. In other words, we will take a very small portion of your hard earned money each month and under the cover of darkness invest this money to grow. You set the account up in a manner of minutes, you save an amount that does not affect your way of life, and we position the money to grow and compound over time.
Set, Save, and Grow, how simple is that?
The Big Picture:
Dollar Investment Club is a totally automated, systematic investment process where relatively small amounts are invested each month. Investors SET their accounts to SAVE and then GROW their assets over time. This "Dollar Cost Averaging" is an investment strategy by which the account-holder invests fixed sums over time systematically, without regard to share price at any time. The idea is that by setting aside a dollar amount, rather than focusing on share price, you end up buying more shares when prices are low and fewer when prices are high, which over time could lower your cost basis. Once a year, a financial representative will review allocations and suggest any changes to one of the five strategies: growth, moderate growth, growth and income, socially responsible growth, and Barron's Top Ten stocks of 2018. Set, Save, And Grow!
Investing:
Like a fine wine served with an expensive meal, our investment strategy is to pair the investment ideologies of various investment managers with complementary strategies. It is our belief, that over time, investing in great businesses around the world is the most effective way to create wealth. Saving to create wealth is what DINCS are all about.
There is an old Wall Street adage that goes "it's not how you time the market, but rather time in the market."
SET-SAVE-GROW
Fees and Pricing:
At the Dollar Investment Club, we believe that controlling cost is an integral part of your investment success. We also believe that costs should be transparent, simple, and easy to understand. We charge the portfolio .95% of assets billed quarterly, just less than 1%, and that's it. No other hidden costs or commissions. So, for an account that has grown to $10,000, the yearly cost would be $95/year. We do have price breaks for large accounts and we certainly hope that is a problem or a future problem for you! We also have a $25/year minimum charge that makes it reasonable to get into the game.
*Disclosure: Systematic investing has its risks and does not assume a profit or protect against loss in declining markets.