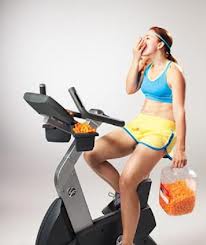 As we reach the end of another year we start that endless task of making our New Years resolutions. The list usually consists of the same thing each year; go to the gym, eat healthier, find a new hobby, blah blah blah the list goes on and on. The month of January the gym is filled with every elliptical and treadmill in use. You then continue with this motivation and get yourself on one of those hyped up diet fads that are "guaranteed" to help you lose 10 pounds in just 3 days! Halfway through January you start to pat yourself on the back, you did it! You are on the road to success! But then at the end of January as the weather goes from pretty Christmas snowflakes to ugly black mud, you begin to lose your motivation.
By February you have created a different excuse for each day of the week to NOT go to the gym: "It's snowing", "I'm tired, but Ill definitely go tomorrow", "My friend NEEDS me to meet for a drink to talk about some guy she met last Saturday night" the list goes on and on. And after you have mastered the excuses that will also convince that not going to the gym is in your best interest you will start to see that the "10 pounds" you lost in January was actually just the water weight that you would inevitably put right back on once the diet is "complete".
So while you are all sitting at home right now get totally amped up to start the New Year off right and scribbling away all of the things you would like to accomplish, let me help you and tell you the one and only thing you should write down for this New Year. BECOME A DINC.  It's so easy to sign up and once you do you won't need to do another thing. Get smart about your financials this year and join the Dollar Investment Club today! Follow our easy steps online, put away $100 a month, and watch you money grow over time. This year lets complete our New Years resolutions. One simple task will help you exponentially in the future. So go to the gym, try that new diet, but accomplish this one thing this year…BE A DINC!