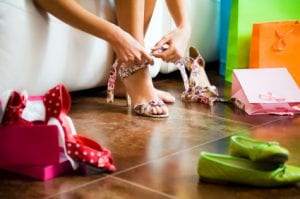 Diamonds are a girls best friend but shoes are a very close second. They are an essential part to your daily wardrobe and shoes can make or break your outfit. While every girl lives for the day they can afford their own pair of Jimmy Choos, the modern day savvy girl can always find places with affordable shoes that mirror name brands.
One of our favorite websites at Dollar Investment Club is JustFab.com. When you sign up for the site you are asked to fill out a questionnaire that gives you many different style options for you to look through; then you pick the ones that best fit your personality. Every time thereafter you have a secret fairy shoe mother who will send you shoes that fit your individual style and taste.
Each and every pair of shoes on JustFab.com are just $39.95, so they will never break your bank. Therefore, if the shoe fits, BUY IT! You'll look fabulous and so will your bank account. So, hit the online shopping, pick what fits you best and let's party DINC-ettes.