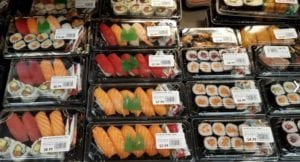 When we are home, Americans on average eat out 4-5 times per week and spend over $1200 per year on fast food alone.  Now as we head into peak travel season, this cost of food dramatically sky rockets higher.
At the Dollar Investment Club we are always looking for ways to save money and invest in ourselves and here are some ideas.
Breakfast is the easiest meal to save on. If not included with your stay, bring boxed individual bowls of cereal, bagels and cream cheese, or pre-made breakfast sandwiches in a cooler.  Beware of the $7 dollar glass of orange juice for all the kids at your favorite pancake house.
Lunch is all about sandwiches which travel well either on the road or at the beach.
Dinner is a bit harder but there is nothing wrong with a baguette, cheese and a bottle of wine.
The key to saving money on the road is to plan a little and stay away from convenience store sushi a lot.